1-800-4clocks.com
Holidays Sale! Up to 40% off and
Double Manufacturers Warranties

On All New Clocks!

Double the Length of the Warranty automatically by simply placing your order! Call or email with any questions.
2
Established & Authorized Dealer
5
Free Shipping to US & Canada
6
No Sales Tax (outide New York)
7
Toll Free Customer Support
Subscribe...
Subscribe to our Clocks Newsletter.
YES, 1-800-4CLOCKS IS the Name of Our Store!
Our Clocks have been featured on the Today Show

and Our Store in the
You are in:
Wall Clocks for Less
Posted May 15, 2012
Many grandfather clock buyers start out looking for wall clocks, only to realize that what they really wanted for their homes were a floor clock, more commonly known and referred to as a grandfather clock. Some times a customer just realizes the presence and beauty and sound that can come from a traditional grandfather clock, such as a Howard Miller Grandfather Clock, and other times a customer may actually ask to see what they frequently term a grandfather wall clock. Some of these shoppers mean a traditional or contemporary grandfather clock while others are referring to a large weight drive mechanical chiming wall clock that they nonetheless think of as a grandfather clock. One of the basic definitions of a grandfather clock or grandmother clock is that it is free standing, and therefore not hung on a wall. Mind you we always recommend to our customers, as with any tall, large heavy piece of furniture, to anchor it to the wall as well, so the clock could not be pulled down or fall down on unsuspecting victims, either because of childhood shenanigans or forces of Mother Nature, like an earthquake.
In the last six months we have noticed that many of what might be, or have been, considered to be among the higher end retailers, are now carrying more and more cheaply made clocks at seeming too good to be true but actually bad value prices, with many of the clock models designed to look very much like the higher price and much better quality clocks that they had previously only sold exclusively, e.g. the higher quality mechanical grandfather clocks made by Howard Miller and Hermle Floor Clocks or Howard Miller Keywound Chiming Mantel Clocks, or Kieninger Grandfather Clocks and mantel clocks. Ridgeway Clocks and Infinity Clocks, not to mention Black Forest German-made cuckoo clocks by the Anton Schneider Clock Company, and we are now seeing what are essentially cheap knock-offs that frequently require assembly, are made of particle board or thin woods not likely to last for very long, and with movements that do not even begin to compare with, for example, the German made mechanical winding grandfather clock movements that are in all the mechanical grandfather clocks and grandmother clocks we currently sell!
Here are some of our highest end most interesting grandfather clocks, which some might think of as grandfather wall clocks: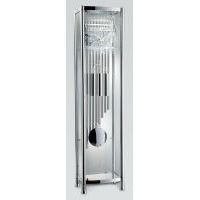 Kieninger Edwards Grandfather Clock <-[Links to clock on our website - amazing contemporary tubular chime grandfather clock Made in Germany]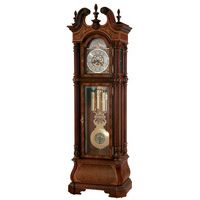 Howard Miller J. H. Miller Grandfather Clock <- [also links to our website - another amazing tubular chime clock with German movement, traditional style, Model 611-030 611030]
Also worth a special look are the:
© Grandfather Clocks Blog and 1-800-4CLOCKS
| | | |
| --- | --- | --- |
| | | |

Volume Discounts
Call us for clock purchase volume discounts for government, business, educational and other organizations.
Custom Clocks
Call us if you need information on getting a clock with a customized logo, or a personalized clock for corporate gift awards, recognition and sales awards, and incentives and promotional pieces, including sport awards and customized watches.