1-800-4clocks.com
2
Established & Authorized Dealer
5
Free Shipping to US & Canada
6
No Sales Tax (outide New York)
7
Toll Free Customer Support
Subscribe...
Subscribe to our Clocks Newsletter.
HOLIDAYS SALE! UP TO 40% OFF AND
DOUBLE MANUFACTURERS WARRANTIES ON ALL NEW CLOCKS!
Double-the-Warranty automatically simply by placing your Order!
Call or email with any questions.
You are in:
Presidential Grandfather Clocks by Howard Miller Clock Company Worth a Special Look
Posted December 6, 2007
With Election season really beginning to heat up, it would appear to be a good time to highlight the AMAZING line of Howard Miller Presidential Series Grandfather Clocks. These Clocks, such as the Howard Miller Eisenhower Grandfather Clock pictured below, are generally grander and more ornate than most of the other collections by Howard Miller. Also especially worthy of note and time looking into is the Howard Miller Ambassador Collection of Grandfather Clocks. Finally, the Limited Edition Howard Miller Clocks are a site to behold as well, some of which cut across these other of these categories.
The five grandfather clock chimes, including Westminster Chimes, Whittington, Saint Michael's, Shubert's Ave Maria and Beethoven's Ode to Joy are now ALL (finally) available on the 1-800-4CLOCKS website for the clocks that play them.
While looking at Howard Miller, there are many other fine makers to explore as well, including Hermle Grandfather Clocks, Kieninger Grandfather Clock Collection, Ridgeway Grandfather Clock Series, and Bulova Grandfather Clocks.
Look at and enjoy these great timepieces which make absolutely wonderful heirloom gifts which will last for many generations.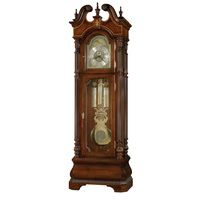 Howard Miller Eisenhower Grandfather Clock from Presidential Series Model Number 611-066
© Grandfather Clocks Blog and 1-800-4CLOCKS
Products in: Presidential Grandfather Clocks by Howard Miller
| | | |
| --- | --- | --- |
| | | |

Volume Discounts
Call us for clock purchase volume discounts for government, business, educational and other organizations.
Custom Clocks
Call us if you need information on getting a clock with a customized logo, or a personalized clock for corporate gift awards, recognition and sales awards, and incentives and promotional pieces, including sport awards and customized watches.
YES, 1-800-4CLOCKS IS the Name of Our Store!
Our Clocks have been featured on the Today Show

and Our Store in the