1-800-4clocks.com
2
Established & Authorized Dealer
5
Free Shipping to US & Canada
6
No Sales Tax (outide New York)
7
Toll Free Customer Support
Subscribe...
Subscribe to our Clocks Newsletter.
HOLIDAYS SALE! UP TO 40% OFF AND
DOUBLE MANUFACTURERS WARRANTIES ON ALL NEW CLOCKS!
Double-the-Warranty automatically simply by placing your Order!
Call or email with any questions.
You are in:
Grandfather Clocks Song Lyrics
Posted May 22, 2012
When most people think about the lyrics to a or the grandfather clock song, their first instinct is to think of the Westminster Chimes music which was popularized in the many many years since the Big Ben Tower Clock in London and the Parliament and Westminster Abbey complex made that 5 bell chime so widely heard and appreciated.
But the Grandfather Clock song actually refers the the Americanization of the grandfather clock term, compared to the Anglo term(s) used before for a hundred plus years of tall case clocks and long case clocks. These same clocks are also known today, and some through many years, as Floor Clocks, Hall Clocks, Grandmother Clocks Grandfather Wall Clocks (a misconceptions, but nonetheless widely held) and one or two other terms we are probably omitting at the moment. Feel free to post comments to remind us or enlighten us. The song, "My Grandfather's Clock", was written by the noted musician Henry Work Clay in 1876.
The general consensus among historians and horologists is that Henry Work Clay wrote this song after he was inspired by the goings on at the George Hotel, an Inn in Piercebridge, England, that. Mr. Clay knew, as he knew the two Jenkins brothers who owned and operated this Hotel. The entryway of this hotel had a longcase clock which was a focal point of the Hotel's Lobby. The story goes that this longcase clock, or grandfather clock as it would later become known as a result of this song, is that the clock always kept accurate time up until one of the two Jenkins brothers passed on. Shortly thereafter, the clock started gradually losing more time, and this trend continued to accelerate over time. Local clock makers and Hotel Staff who were familiar with clocks in general, and certainly this one, were all unable to fix this problem.
When the 2nd Jenkins brother passed away, this clock was said to have stopped ticking precisely at the moment "when the old man died", which became a refrain for Henry Work Clay's song. Mr. Clay had visited the Hotel the year prior, in 1875. He heard many of the above stories, and had a chance to ask question and get feedback. Incidentally, this Hotel is still in existence today. Our guess is the grandfather clock, whether the original one or not, is now working.
The clock was 1 1/2 times taller than the more recently deceased grandfather's height at the time of his death, though they apparently weighed about the same (not sure why exactly relevant, it is wide reported upon). The clock had been purchased on the actual birthday of the more recently deceased of the 2 brothers. Fascinated is the fact that the clock worked apparently worked great for 90 years, with the problems only beginning and the clock stopping on his 90th birthday.
This grandfather clock had one unusual feature. When Mr Jenkins, last of the 2 brothers to pass, brought his bride into the Hotel, this clock somehow (magically, with a remote of some sort, or a switch or clock lever perhaps – we may never know), would always ring 24 times whenever his wife visited the Hotel.
Then one night, and at a time when Mr. Jenkins was extremely ill, the clock made an unusual sound the Innkeepers had never heard before, yet they somehow sensed or "knew" that this meant Mr. Jenkins would soon die. Sure enough, he did several hours later, and amazingly the grandfather clock stopped ticking and working at precisely the moment Mr. Jenkins heart stopped beating. None of the Inn's staff, nor any of the best clocksmiths in the area, were able to fix the clock.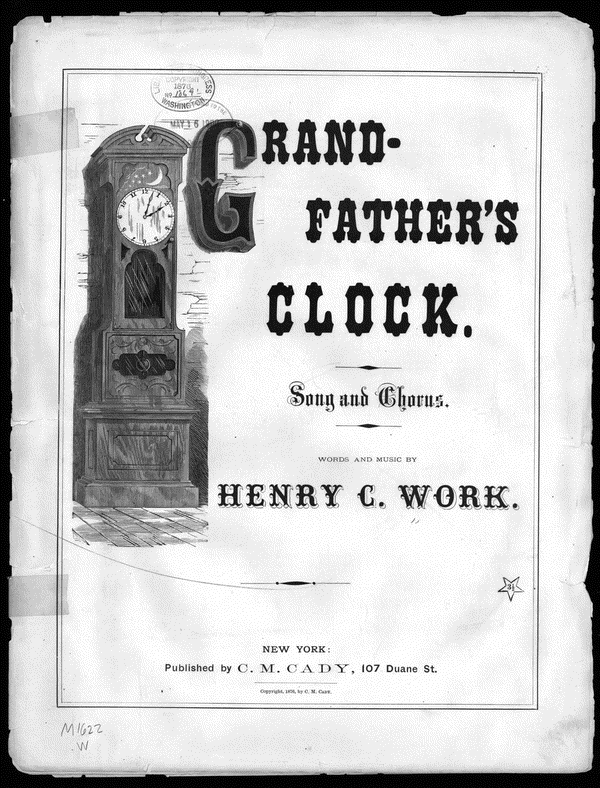 The grandfather clocks song was popularized around the world in the late 1800s, first in England. It gradually and continually took hold more and more over time in the USA, to the point now where a grandfather clock or grandfather clocks is in the fact term most everyone on North America uses today- one rarely see longcase clocks or tall case clocks as the defining term.

Here BELOW are the lyrics to Henry Clay Work's creation and rendition on "My Grandfather Clock" My grandfather's clock
Was too large for the shelf,
So it stood ninety years on the floor;
It was taller by half
Than the old man himself,
Though it weighed not a pennyweight more.
It was bought on the morn
Of the day that he was born,
And was always his treasure and pride;
But it stopped short
Never to go again,
When the old man died.
CHORUS:
Ninety years without slumbering,
Tick, tock, tick, tock,
His life seconds numbering,
Tick, tock, tick, tock,
It stopped short
Never to go again,
When the old man died.
In watching its pendulum
Swing to and fro,
Many hours had he spent while a boy;
And in childhood and manhood
The clock seemed to know,
And to share both his grief and his joy.
For it struck twenty-four
When he entered at the door,
With a blooming and beautiful bride;
But it stopped short
Never to go again,
When the old man died.
CHORUS
My grandfather said
That of those he could hire,
Not a servant so faithful he found;
For it wasted no time,
And had but one desire,
At the close of each week to be wound.
And it kept in its place,
Not a frown upon its face,
And its hand never hung by its side.
But it stopped short
Never to go again,
When the old man died.
CHORUS
It rang an alarm
In the dead of the night,
An alarm that for years had been dumb;
And we knew that his spirit
Was pluming for flight,
That his hour of departure had come.
Still the clock kept the time,
With a soft and muffled chime,
As we silently stood by his side.
But it stopped short
Never to go again,
When the old man died.
CHORUS
Some really nice grandfather clocks by Howard Miller Clocks and Hermle Clocks:
© Grandfather Clocks Blog and 1-800-4CLOCKS
| | | |
| --- | --- | --- |
| | | |

Volume Discounts
Call us for clock purchase volume discounts for government, business, educational and other organizations.
Custom Clocks
Call us if you need information on getting a clock with a customized logo, or a personalized clock for corporate gift awards, recognition and sales awards, and incentives and promotional pieces, including sport awards and customized watches.
YES, 1-800-4CLOCKS IS the Name of Our Store!
Our Clocks have been featured on the Today Show

and Our Store in the